Many people with high prescription medication expenses worry about entering the Medicare Part D "donut hole." We want to help you understand the donut hole and what it may mean for you so that you can be financially prepared.
---
What is the donut hole?
The formal term for this period is the "coverage gap." It refers to a gap in Medicare Part D prescription coverage - a short-term limit on what costs the drug plan will cover. When Medicare beneficiaries reach this gap, their out-of-pocket cost responsibility increases.

In 2023, individuals will enter the donut hole once the value of their covered prescriptions has reached $4,660. The coverage gap threshold can change each year. 
Out-of-Pocket Costs in the Donut Hole
While the donut hole isn't going away, the cost share for those with Part D coverage who reach this phase has decreased over the years. In 2023, covered brand-name and generic medications are discounted by 75 percent.
For brand-name drugs covered by your prescription drug plan, you'll pay no more than 25 percent of the full price when you reach the coverage gap. In addition, certain plans have discounted rates for drugs in the donut hole. Even though you'll pay no more than 25 percent of the cost of the medication in this phase, almost the full price will count toward your out-of-pocket spending.
When it comes to generic drugs, Medicare pays 75 percent of the drug cost and you pay the remaining 25 percent. Only the portion of the costs that you pay will count toward getting you out of the donut hole.
Costs that count toward the donut hole:
Your annual deductible, coinsurance, and copays
The discount you get on brand-name drugs in the coverage gap
What you pay in the coverage gap
Costs that don't count toward the donut hole:
The drug plan premium
Pharmacy dispensing fee
What you pay for drugs that aren't covered by Medicare
Most individuals who enter the donut hole will never spend enough to reach the next phase, which is known as catastrophic coverage. Instead, they'll pay their coinsurance of 25 percent for covered medications through the end of the year and then restart their drug coverage at the beginning of the next year. 
For those who reach the catastrophic coverage phase, medication costs drop significantly, and these individuals pay a very low coinsurance or copayment. Beginning in 2024, Medicare beneficiaries who reach this phase of their drug coverage will no longer pay coinsurance or copays for drugs covered by Medicare.
Medicare Part D Donut Hole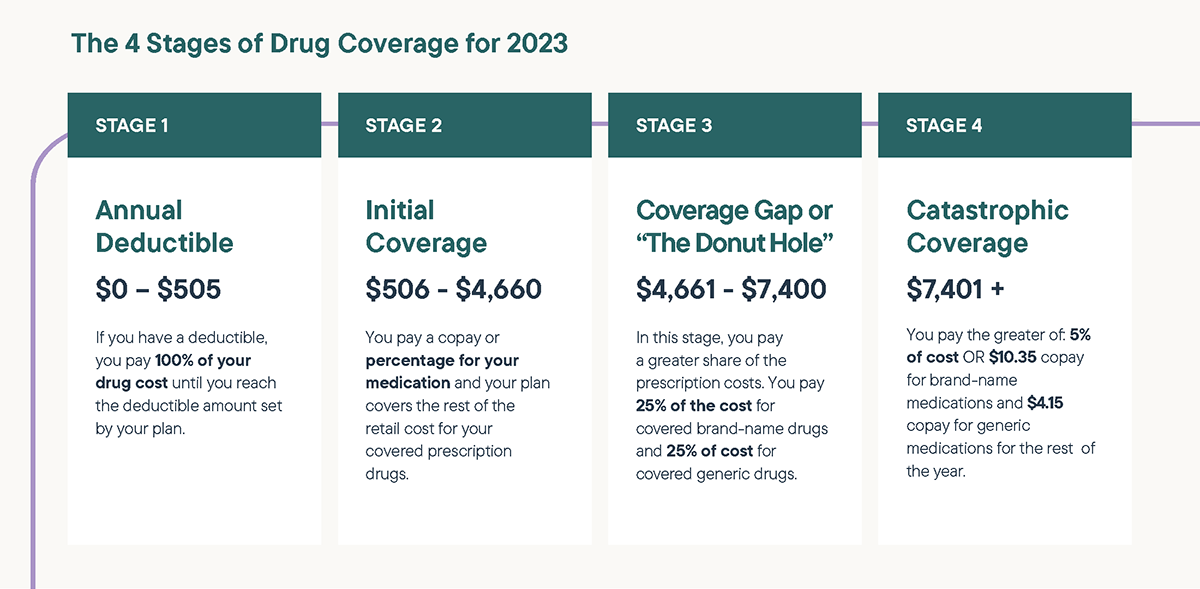 What to Do if You Hit the Donut Hole
Unfortunately, the donut hole exists on every type of Medicare plan that includes drug coverage, so you won't be able to avoid hitting the donut hole by switching Medicare plans. For tips on how to save on expenses in the donut hole, watch this video.
We Can Help – Dayton and Cincinnati Medicare Help
If you're a RetireMed client and have questions about the donut hole and how it may affect your coverage, schedule a call with a client advisor. We're here to help!
Have questions about how to get started with Medicare? Our advisors can answer your questions and walk you through everything you need to know. Schedule a call today!