Turning 65? Each day, 10,000 baby boomers turn age 65, which means that you and thousands of others are rapidly approaching Medicare eligibility.
Check if you're eligible for Medicare.
Most Boomers say it's confusing and time-consuming to figure out the ins and outs of Medicare when you turn 65, but we ensure you're not alone. We've got you covered, and we're here to make the transition as smooth as possible. Here are three things every Baby Boomer should know before age 65:
1. Know When You Can Enroll in Medicare.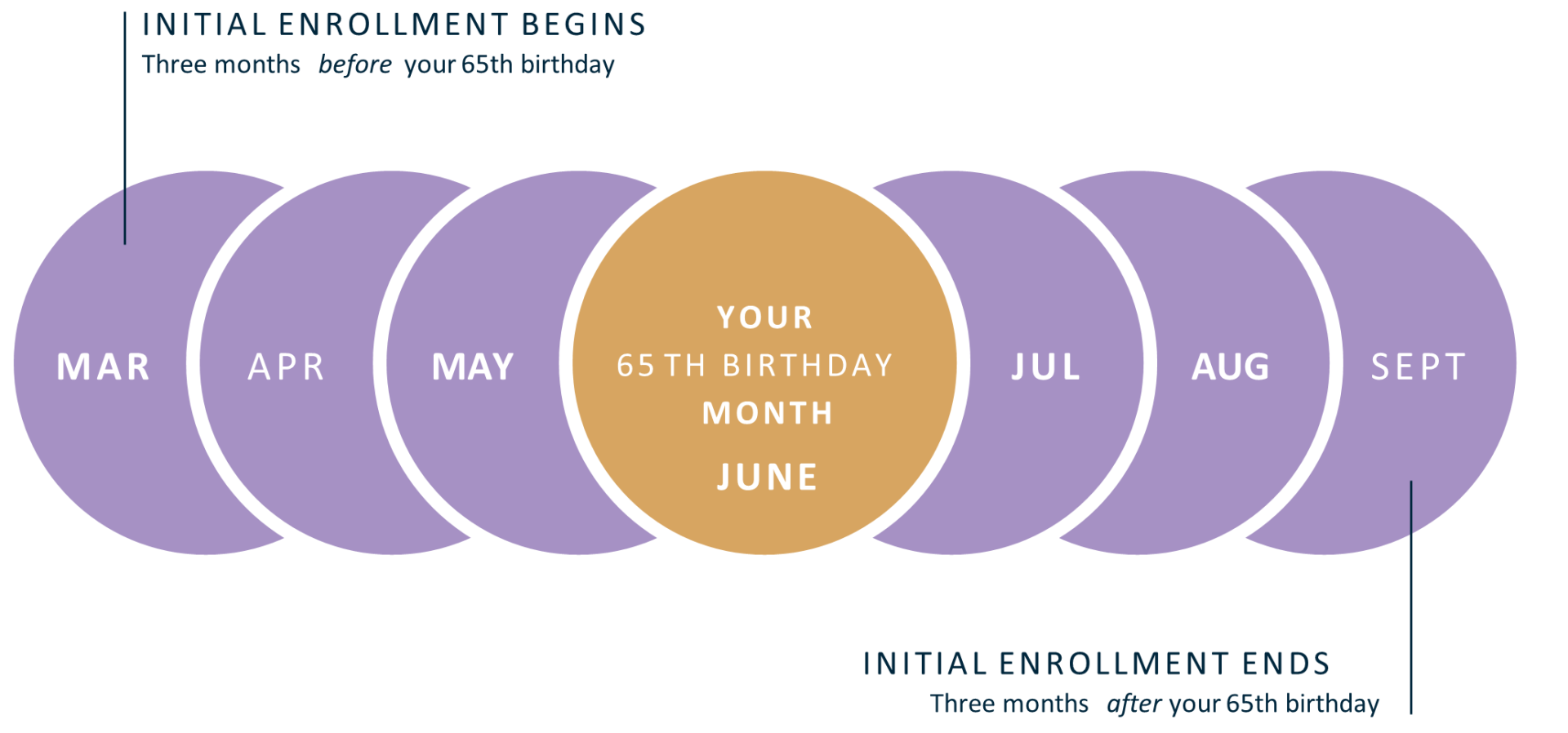 Your first opportunity to sign up for Medicare is called your Initial Enrollment Period (IEP). This 7-month timeframe starts three months before the month of your 65th birthday and ends three months after the month you turn 65.
Example: John is a retiree who is turning 65 on June 20.  John's IEP will begin on March 1 and will end on September 30.
2. Determine if You Should Delay Medicare Part B to Avoid a Penalty.
If you plan to work beyond age 65 and have employer coverage, you may need to defer Medicare Part B.
Not taking this important step could result in lifetime monthly penalties. So, it's important to review your situation carefully. Because of the complexity of deferring Medicare, we recommend working with a trusted advisor on this decision.
3. Know Your Medicare Plan Options.
Upon turning 65, many people believe that Medicare is free and that it will cover most of their health expenses. Unfortunately, neither is true.
A key takeaway is to know your Medicare plan options to make informed decisions about your health plan. Our advisors can help with this process!
What to Do Now.
When you first become eligible for Medicare, you can choose between options that may include Original Medicare (Parts A & B), Medicare Advantage plans, Medicare Supplements with a Prescription Drug plan and more.
There are hundreds of plan options to choose from in your area alone and many minute details to consider in order to find the plan that best fits your needs and budget.
We are your local health care experts; we want to simplify the process of finding the plan that's right for your individual situation at no cost to you. Call our team of advisors who will guide you through the process from start to finish.
We are your retirement insurance advisors and advocates: we want to simplify the process of finding the right health insurance plan for you.
Receive the peace of mind you deserve when it comes to your health plan. Guiding you to the right Medicare plan for your needs and budget, our team of experts in Medicare helps you embark on a worry-free retirement.
Not Sure Where to Start?
Sign up for our email newsletter at www.retiremed.com/subscribe to receive timely, tailored Medicare, retirement, and lifestyle communications to your inbox!
These e-communications will help you cut through the clutter of Medicare and retirement information you will receive.
If you've already signed up for our newsletter, please be sure to share this with your family and friends who are age 62 and above, so they can also gain Medicare peace of mind.
We look forward to helping you and your loved ones with this exciting milestone! Give us a call at 855.465.2773 to begin working with one of our advisors today! We will evaluate your current health insurance needs, budget and lifestyle to find the right plan for you.